2015 Edelman Trust Barometer Report: The role of purpose in driving trust and innovation
Edelman's 15th Annual Trust Barometer Report is out, and the findings are good. The core finding for 2015, 'Trust is essential to innovation', points to progress we're making out of the era of Corporate Social Responsibility towards integrated sustainability strategies. As Amazon Founder and CEO Jeff Bezos explains, "New inventions and things that customers like are usually good for business."
The Opportunity in Good Innovation
With the pace of development and change moving at lightning speed, businesses have yet to catch up to the opportunity innovation can play in benefiting both business and greater society. Today, new business innovations are perceived as being driven first by technology, (70%) followed by growth targets (66%), greed/money (54%), and personal ambition (35%). Drivers of improving people's lives and making the world a better place are perceived to only account for 30% and 24% of innovation efforts, respectively.
The opportunity here is loud and clear. Those brands that choose to serve the interest of all stakeholders can build their positive social impact and business. By driving innovation from a place of purpose, brands can capture this unique opportunity to engage with key stakeholders in a way that transcends their products, services, category, and ultimately, competition. However, telling this story must be authentic.
No matter the social impact innovations you choose to engage in, they should align directly with your business impact, what you and your customers care intimately about, and demonstrate tangible results in moving the needle towards positive social change. The company story and brand story can then become integrated into a single platform. Unilever's 'Project Sunlight' is a great example of to align your company sustainability story and product brands through a unifying platform – which has subsequently allowed each brand to engage consumers in different way though all categorized as 'acts of sunlight'.
Prioritize Engagement and Integrity
Beyond identifying and auctioning social innovations to invest in, brands' engagement efforts are essential to building trust. According to Edelman, there is a massive gap (and opportunity) between brands' ability in communicating integrity and engaging stakeholders, and the importance placed on these attributes by stakeholders.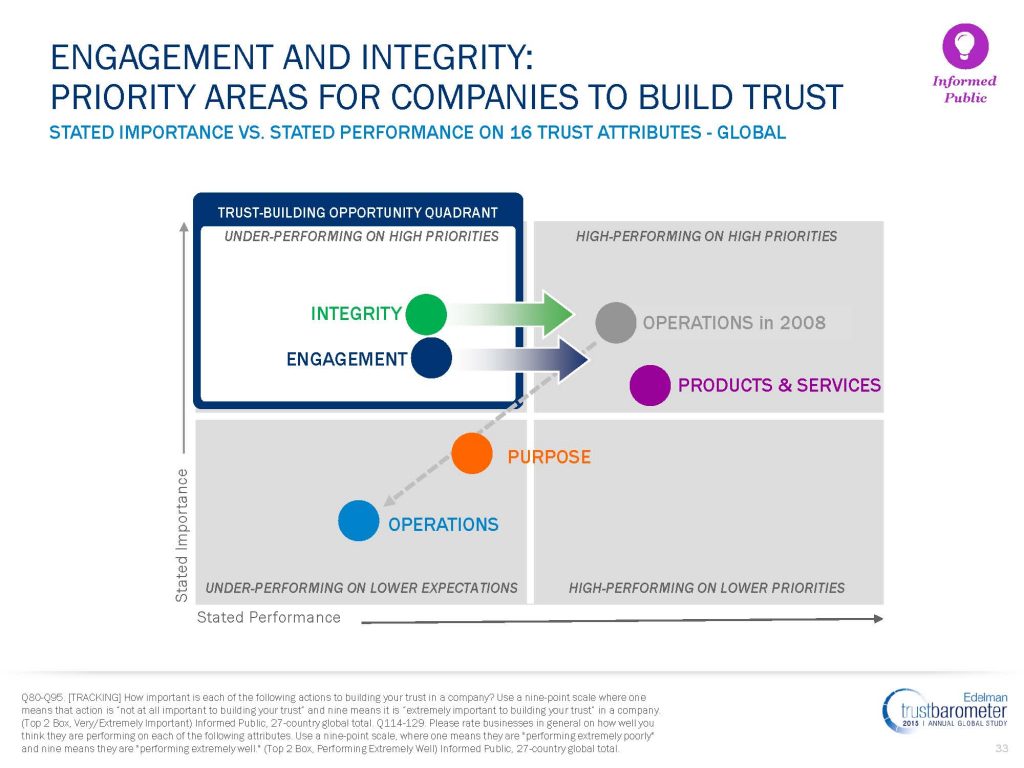 Let's look at each attribute.
The importance of integrity speaks to shifting consumer behavior – voting with their wallets those companies that provide transparency in their operations and a dedication to social good in their mission. Brands must reorient their perspective on corporate purpose to "be a mission with a company, not a company with a mission". The misconception that brands could solely operate for profit or for purpose is now defunct; these are no longer mutually exclusive motivations, but a new brand structure. The future of profit is indeed purpose.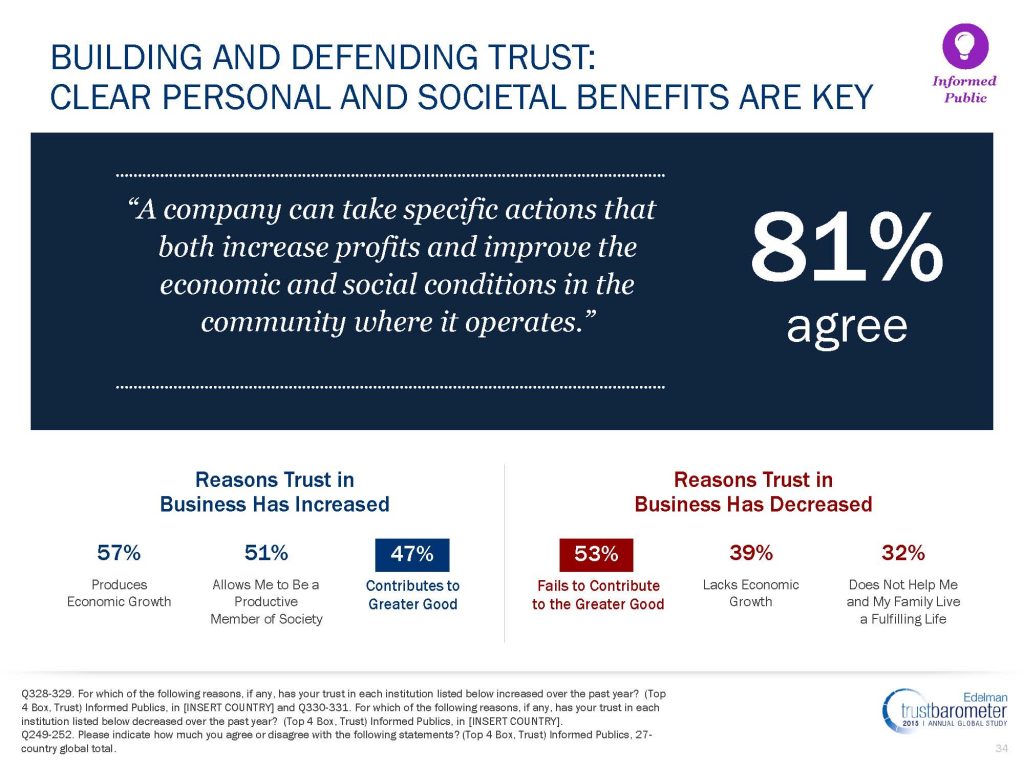 With your mission defined, engaging stakeholders in that story must be a conversational rather than directional strategy. Brands that will win in the engagement space are those that give employees, partners, clients and consumers a way to co-own, co-author, and co-create the brand story. Only here can your brand story be amplified internally and externally, as well as within and outside the industry. Patagonia's Worn Wear campaign, which invites consumers to share stories of their Patagonia clothing they have loved and lived in for years, brings to life their whole mandate of responsible consumption.
Trust in Innovation Matters
Beyond brand reputation, investing in initiatives and activities that build trust with key stakeholders proves essential to the successes of innovation and ultimately, adoption of your target consumers. Notably, 68% of respondents to Edelman's study indicated they would recommend a company they trusted to a friend/colleague, and nearly have would share their positive opinions online. Why is this so important? Because friends and family are the #1 most trusted content creators and online search engines are the most trusted media source. On the contrary, distrusted companies suffer immensely from friend/colleague criticism and negative opinions shared online.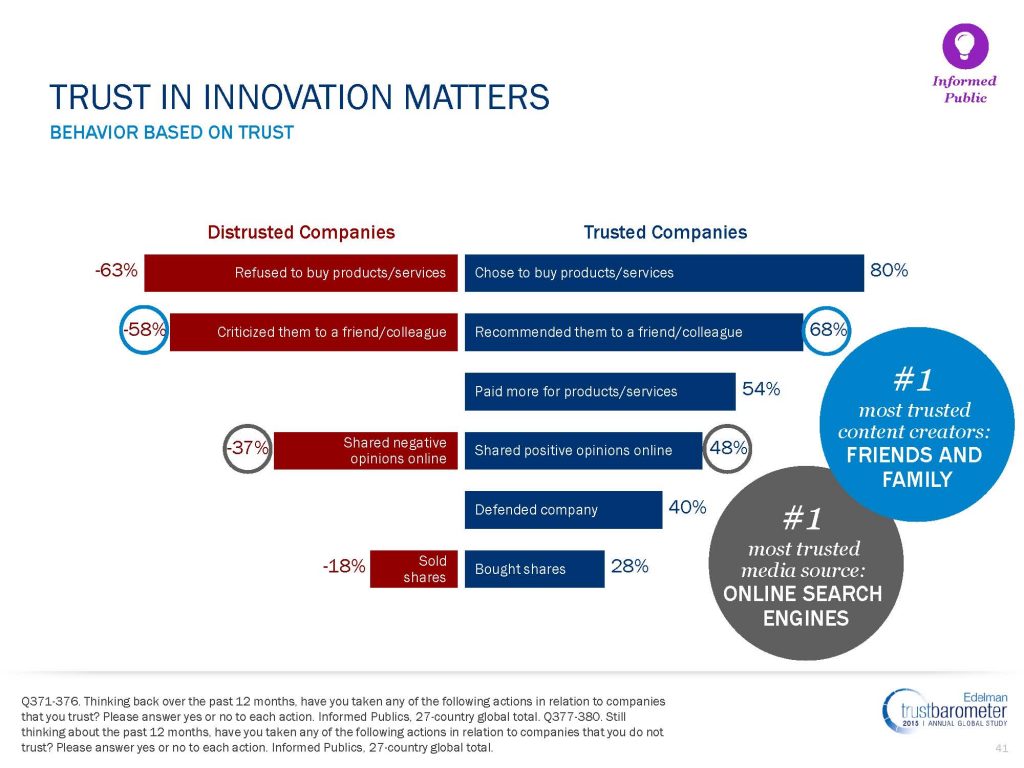 For a brand's innovations to succeed a focus on building trust is paramount, which means advocating for consumer action not acquisition. By celebrating the achievements of your customer community in lieu of your own, you become a community architect – empowering their choices – and in turn, build an intimate circle of trust around your actions in support of theirs. Trustworthy brands understand that consumers do not just want a better product or better service, but the consumer of today (and your consumer of tomorrow) want a better world. Ultimately, brands winning the trust of consumers (and their share of wallet) are those working to deliver innovations that positively impact many while arming each consumer with an authentic, proprietary and shareable brand story.
Don't forget to follow We First on Facebook, Twitter & Google+